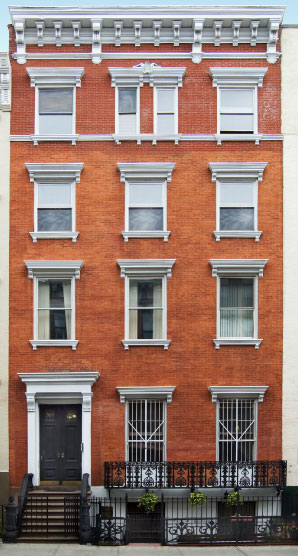 Our school is housed on four floors of the building.  We have:
·      Two 2s classes
·      Two 3s classes

·      One 4s class

·      An Art Room

·      A Music Room

·      A Dance Room

·      An outdoor play space

·      A roof deck with play space
Children move freely around the building, and enjoy the spacious rooms with natural lighting.
The large spaces allow for classes to divide into small groups where children can receive individual attention and spend time developing their projects.

  OUR GRACIOUS BUILDING AT 93 ST. MARK'S  PLACE IS ONE OF THE FINEST BUILDINGS ON THE BLOCK.
It is a magnificent structure with many of the original details still intact. For over 110 years we have been creating a warm and welcoming environment for children as well as parents. Our classrooms are very spacious with high ceilings and large windows so our rooms are warm and light. These classrooms are large enough to allow children to be together at times, and at other times to have quiet moments in a reading nook or window seat. We have a full kitchen where children can cook and eat what they have made. We have a washer and dryer to help out with wet clothing emergencies. We have our own back yard where children can play in snow or sun. In the summer we have sprinklers and water tables so children can be outside yet enjoy the privacy of our own space.