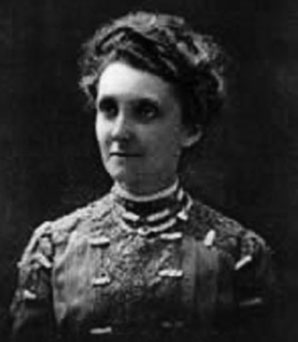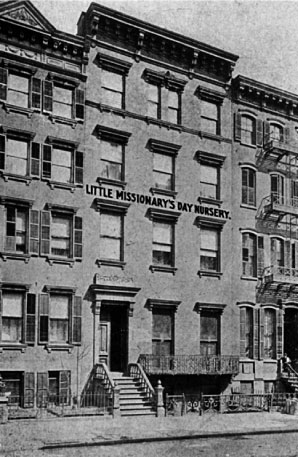 THE LITTLE MISSIONARY'S DAY NURSERY IS THE OLDEST CONTINUOUSLY OPERATING NON-SECTARIAN NURSERY SCHOOL IN NEW YORK CITY.
It was founded in 1896 by Sara Curry, a woman who dedicated her life to providing childcare to the working parents of the Lower East Side. Since she worked so hard to help the community, and she was short in size, many called her the "Little Missionary," hence the name of the school. At the turn of the century, children often roamed the streets of the Lower East Side while their parents worked long days in factories. Sara Curry organized a program in her own apartment on Avenue C, and provided children with reading lessons as well as healthy food in a safe, clean environment. In 1901 the building at 93 St. Marks Place was purchased with the help of generous benefactors. On any given day, 200 children were cared for in this wonderful building, still a haven for children to this day.
Sara Curry was famous in her time, and was featured in many publications including Harpers Weekly and Fifty Years on the East Side, by Rev. John Robertson Henry. Through her tireless efforts she made numerous friends in the business community and was able to enlist the support of several very wealthy families, such as David M. Torrey, Mr. Frederick Hewitt, Mr. Alexander C. Morgan, Louis B. Rolston, Jean Rolston Peacock, Georgiana Keep and many others.
In addition to providing child care, Miss Curry fed the poor in the neighborhood and often gave her own clothing or shoes to those without. She organized cooking, sewing and child care classes for the mothers. She organized meetings to help families with their problems, and helped to steer parents towards sobriety and economic responsibility. A summer house in Rye, donated by benefactors, was for many years a haven for children to escape from the sweltering heat of the city.
Miss Curry died in 1940. The nursery was managed by her adopted daughter Anna Almasy until her retirement in 1973. Though enrollment and funding decreased after Miss Curry's death, the Board and parents of the nursery both worked hard over the years to keep the school alive. The building in Rye was sold in 1991 and the proceeds were used to pay debts and defray expenses.
VILLAGE PRESERVATION (GVSHP) ARTICLE ABOUT LMDN
During the following years the school went into a decline, however thanks to a number of community members, including Herman Hewitt, Harvey Epstein, and Rick Carman, the school began a resurgence.
Eileen Johnson was hired in 2001, and took over as Director of the school.  Under her leadership, the school has experienced a rebirth and a continued period of stability and growth not seen since Ms. Curry died.  Since 2001, the school has been developed and improved in many ways.
These improvements include adding programs and developing our building to provide the following enhancements:
After School program in 2002
Summer Program in 2003
Back yard play space with rubber flooring, play set in 2004
Parent Workshops annually since 2005
Pre-K class in 2006
Development of the upper floors and doubling the school's capacity in 2014
State of the art fire alarm system installed 2014
Addition of a roof deck/gardening space 2015
Kindergarten – 5th Grade program 2017-2020
Library with glass doors that open to the back yard added 2018
A full kitchen added 2018
Air Conditioning throughout the building
We work hard to maintain and improve our facility and develop new programs to serve the community and preserve our historic organization.
The nursery still serves the working parents of the Lower East Side, and each year a portion of income is set aside to provide tuition assistance. The Board of Directors consists of volunteers who give generously of their time and energy to keep this wonderful school thriving.  Please contact us if you would like to join our Board. Please consider donating to our Financial Assistance fund. 
Our Board president is Herman Hewitt.