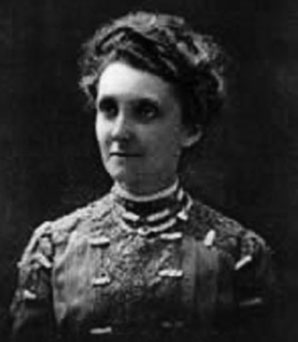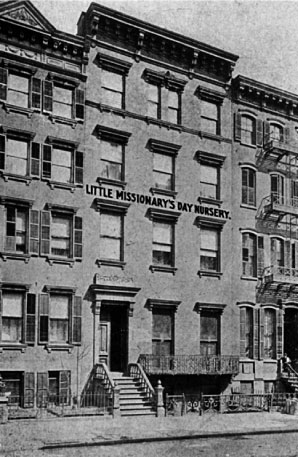 SARA CURRY PRESCHOOL AT THE LITTLE MISSIONARY'S DAY NURSERY IS THE OLDEST CONTINUOUSLY OPERATING NON-SECTARIAN SCHOOL IN NEW YORK CITY.
It was founded in 1896 by Sara Curry, a woman who dedicated her life to providing childcare to the working parents of the Lower East Side. Since she worked so hard to help the community, and she was short in size, many called her the "Little Missionary," hence the name of the school. At the turn of the century, children often roamed the streets of the Lower East Side while their parents worked long days in factories. Sara Curry organized a program in her own apartment on Avenue C, and provided children with reading lessons as well as healthy food in a safe, clean environment. In 1901 the building at 93 St. Marks Place was purchased with the help of generous benefactors. On any given day, 200 children were cared for in this wonderful building, still a haven for children to this day.
Sara Curry was famous in her time, and was featured in many publications including Harpers Weekly and Fifty Years on the East Side, by Rev. John Robertson Henry. Through her tireless efforts she made numerous friends in the business community and was able to enlist the support of several very wealthy families, such as David M. Torrey, Mr. Frederick Hewitt, Mr. Alexander C. Morgan, Louis B. Rolston, Jean Rolston Peacock, Georgiana Keep and many others.
In addition to providing child care, Miss Curry fed the poor in the neighborhood and often gave her own clothing or shoes to those without. She organized cooking, sewing and child care classes for the mothers. She organized meetings to help families with their problems, and helped to steer parents towards sobriety and economic responsibility. A summer house in Rye, donated by benefactors, was for many years a haven for children to escape from the sweltering heat of the city.
Miss Curry died in 1940. The nursery was managed by her adopted daughter Anna Almasy until her retirement in 1973. Though enrollment and funding decreased after Miss Curry's death, the Board and parents of the nursery both worked hard over the years to keep the school alive. The building in Rye was sold in 1991 and the proceeds were used to pay debts and defray expenses.
To this day, the nursery still serves the working parents of the Lower East Side, and each year a portion of income is set aside to provide tuition assistance. The Board of Directors consists of volunteers who give generously of their time and energy to keep this wonderful school thriving.
Our Board members consist of:
Herman Hewitt, Eileen Johnson, Dan Wood, Katerina Maxianova, Annika Colston
We collaborate with the Board of Sara Curry Day School:
Jenny Langsam, Margo Moulton, Kristin Vincent, Jeannie Gaffigan, Julie Dugas